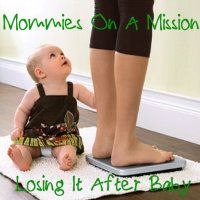 I can't believe it is week 4 already! I have finally made some progress. I lost 3 pounds this week and can finally button my pre-pregnancy jeans! I swear, I owe it all to the Special K. I haven't yet found (made) the time to exercise so I still have the pregnancy belly pouch that won't go anywhere until I get my butt off the couch!
I think I need something to motivate me this week. Maybe a trip to a local beach, pool, or lake as a reward...somewhere that means a bikini. I am really excited about my progress but I really want to start exercising for so many reasons, not just to lose the last of the weight. If you are following along each week, how are you doing with your progress? Any advice for motivation?
Pregnancy weight: 180
Pre-pregnancy weight: 121
Last weeks weight: 130
Today's weight: 127
Please venture over to Life as a Lake to check on Mama Lake's progress this week!