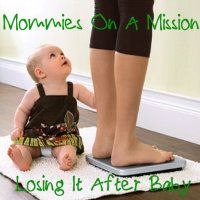 Ok I admit, knowing I was going to start a weightloss challenge today did not encourage me to eat well and get a head start. In fact I did the opposite. I stopped thinking about what I was eating and rationalized that I would be starving soon enough! All kidding aside, I weighed myself this morning and was pleasantly surprised to see I had dropped 5 more pounds. I was confused as to how that could have happened but while telling my mom about it, it dawned on me that over the past month or so, I have made some changes to my diet. I stopped eating fast food and dining out, I was making all of our food including most snacks, from scratch, and my family was eating alot more fresh fruits and vegetables. I hadn't thought of it before as helping me to lose weight. I just wanted to save money and be healthy.
So here is the rundown:
Goal: I have 9 pounds to lose to get to pre-pregnancy weight. I am realistic with this goal because I am a nursing mommy and my son needs me to be a little chunky!
Plan: My plan to reach my goal is something that has worked for me in the past. Most days I will be eating special k cereal for breakfast. Lunch will be an Arbonne protein shake with either 2% milk or almond milk and almond or peanut butter. Dinner will be a balanced meal. Lots of water, fruits and veggies for snacks! For exercise I will be attempting to do Jillian Michaels dvd "Ripped in 30" 3-5 times a week.
Here is my before, please excuse the picture quality!:
For those of you who want to link up your blogs so we can read your progress here's how: